Aug 16, 2022
Image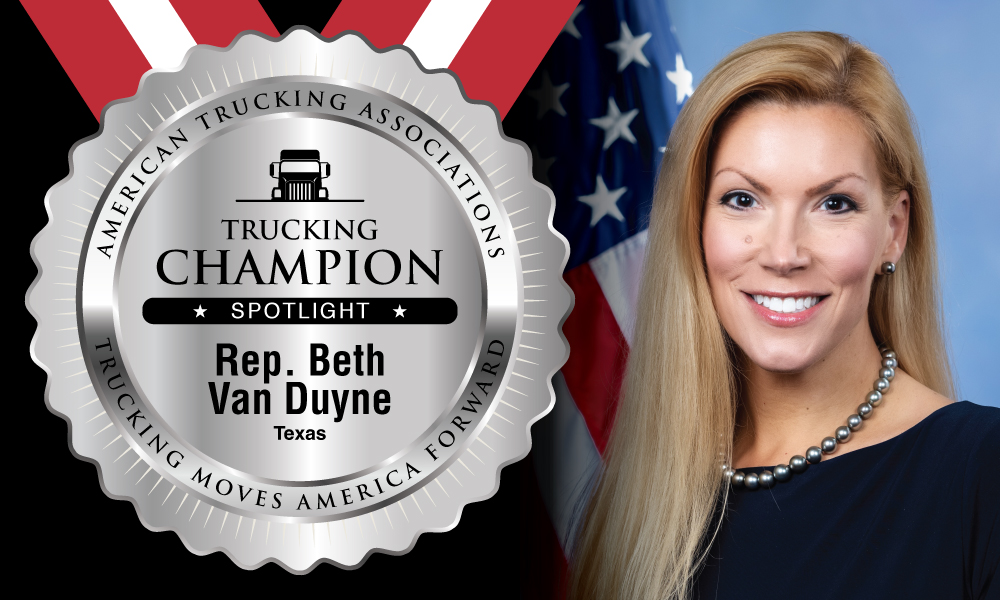 Hailing from a border state that boasts the second largest economy in the U.S., Congresswoman Beth Van Duyne represents a district situated along some of our country's busiest freight corridors, where millions of tons of essential goods move by truck every year. These vital arteries sustain the local Texas economy while connecting the state's producers to key markets across the country. From this crucial vantage point, Congresswoman Van Duyne has developed a deep knowledge of and appreciation for the trucking industry, becoming one our staunchest advocates on Capitol Hill.
Which is why we're proud to call her our Trucking Champion of the Month.
"Without the men and women in the trucking industry spending weeks on end away from their families, the American economy would crumble."
- Congresswoman Van Duyne
Texas truckers depend on good partners in government in order to keep the supply chain moving, and fortunately they have Congresswoman Van Duyne fighting for them Washington. From cosponsoring legislation that reduces barriers facing younger drivers looking to jumpstart their trucking careers, to challenging misguided policies that threaten the livelihoods of independent truckers, she has taken the initiative in Washington to ensure America's trucking industry has the workforce it needs to keep carrying our economy forward. 
Congresswoman Van Duyne has helped lead efforts to expand interstate trucking career paths while simultaneously raising and strengthening safety and training standards for younger drivers. Today, 49 states including Texas permit 18-, 19-, and 20-year-old truckers to operate large commercial vehicles within state lines, but federal law prohibits them from crossing state lines. The DRIVE-Safe Act, legislation the Congresswoman cosponsored, would eliminate this nonsensical contradiction, empowering under-21 drivers to participate in interstate commerce upon the completion of new and advanced training requirements totaling more than 400 hours. 
Congresswoman Van Duyne has also used her position on the House Transportation and Infrastructure Committee to push back against harmful state laws, such as California's AB-5, which threaten the viability of the owner-operator model in trucking and the livelihoods of millions of independent truckers who participate in interstate commerce across the country.


In addition to those efforts in the nation's capital, Congresswoman Van Duyne is also taking action back home in Texas to support the trucking workforce. She recently hosted a host a Summer Workforce Workshop Initiative to educate her constituents about high-demand industries offering widespread job opportunities, trucking included. This program includes a website connecting job seekers with local transportation stakeholders, helping to address the truck driver shortage and ensure supply lines keep moving. 
"Since being sworn-in in 2021, Congresswoman Beth Van Duyne has quickly risen as a champion for transportation issues," said Texas Trucking Association CEO and President John D. Esparza. "She serves as a member of the House Committee on Transportation and Infrastructure and has made it her mission to visit trucking businesses throughout her district to learn the ins and outs of our industry. We are excited to have such an ambitious and driven leader represent Texas at the national level." 
On behalf of the entire trucking community, we are proud to a great have an outstanding champion in Congresswoman Beth Van Duyne.
Q&A with Congresswoman Beth Van Duyne
What do you appreciate most about the trucking industry?
1)    Their selflessness to keep our economy running. Without the men and women in the trucking industry spending weeks on end away from their families, the American economy would crumble. 

2)    It's easy to forget how essential truckers are in our daily lives, but without them, we wouldn't have access to the essential goods we rely on. 
What role do truckers play in the local Texas economy?
Texas is a massive state. We've got over 300,000 miles of public roadway in the Lone Star State, and we rely on our truckers to ensure essential goods are distributed to every Texan. One in 16 Texans are employed by the trucking industry, and 73% of goods manufactured in Texas are transported by truck. They're also essential for international trade: 85% of trade between Texas and Mexico is handled by trucks.
If you could describe Texas truckers in one word, what would it be?
Resilient.
How can elected officials better support the men and women of trucking?
   They need reinforcements! I am hosting a Summer Workforce Workshop Initiative, where we will be highlighting six different industries, one being transportation. Specifically, we will focus on trucking and how we are in need of skilled and dedicated people to work in this crucial industry including CDL certified drivers. During our Transportation week, August 1-5, we will connect local stakeholders to address the challenges with truck driver shortage and how to keep our transportation system thriving, as we move forward.
What song tops your long-haul playlist?
Life is a Highway by the Rascal Flatts