Overview
The ATA Safety Management Council is the only national organization dedicated to advancing safe policies, practices and technology; and effective risk management and accident/injury prevention in the trucking industry. SMC also addresses trucking's unique human resource challenges, health and wellness issues, as well as recruitment and retention strategies.
Who We Support
The Safety Management Council supports the ATA Safety Policy Committee, Hazardous Material Policy Committee, and the Labor and Regulatory Policy Committee, providing knowledge and experience from industry safety and H.R. professionals.
Safety Management Council – Benchmarking Survey
The ATA Safety Management Council invites you to participate in the inaugural SMC Safety Benchmarking survey.
This survey was developed by the SMC Benchmarking Working Group which was established in May of 2021. The intent of the survey is to perform a holistic examination of motor carrier safety programs and to provide motor carriers the ability to benchmark their current policies and procedures against their industry colleagues.
Companies that participate in this annual survey will receive one complimentary copy of the final report. Additionally, round-table reviews and presentations of the data will take place at the annual ATA Safety, Security and HR National Conference & Exhibition.
There is sensitive information requested in the survey and we understand the hesitancy to share specifics regarding your safety programs. Please know that your responses are 100% confidential and your motor carrier name or any other identifying information will be excluded from reports or analysis pieces. Jacob Pierce, executive director of the ATA Safety Management Council will serve as the confidential agent in charge of managing the survey and will scrub all identifying information from the submissions prior to review.
Participation in the survey is highly valued and we encourage each ATA and SMC Member to enter information. Your responses will help shape ATA safety policy agenda, provide a safety benchmark for members of the ATA & SMC, and help improve the overall safety of the trucking industry.
Complete the survey using our online form found by clicking the below button. To view a sample of the survey, click here.
Questions? Reach out to Jacob Pierce at 703-838-1931 or jpierce@trucking.org.
Deadline: December 17, 2021
​Member Benefits
Professional affiliation with the only national organization dedicated exclusively to industry-wide motor carrier safety and loss prevention
Answers to your questions on safety and human resources
Quarterly magazine - Driven
Access to online Membership Directory
Industry alerts, including legislative and regulatory updates
Awards and Image Recognition programs
Accident Review Service to assist you with decisions concerning preventability
Joint Initiatives with State and National law enforcement agencies and safety government initiatives
Seminars, Conferences, Exhibits, Webinars, and Conference Calls
Discounts of products, seminars, courses, conferences, and exhibit space
Subscription to Transport Topics valued at $129.00
Complimentary copy of Guidelines for Recording Vehicle Accidents & Determining Preventability valued at $31.00 and discounts on additional copies ordered
Participation on Technical Committees and Working Group (e.g., Regulations Committee, Hazardous Materials Committee, Occupational Safety & Health Committee, Health and Wellness/Recruitment and Retention Committee, etc.)
| | | |
| --- | --- | --- |
|   | ATA Member | Non-ATA Member |
| Motor Carrier |   |   |
| | $400/pp | $500/pp |
| | $200/pp | $300/pp |
| Allied |   |   |
| | $600/pp | $800/pp |
| | $300/pp | $400/pp |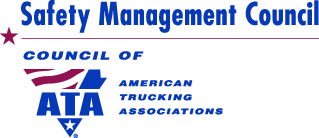 Contact Information
950 N Glebe Rd., Suite 111
Arlington, VA 22203-4181
Phone: (703) 838-1919
Fax: (703) 838-1965
smc@trucking.org
For slides, presentations, documents,and other resources, access the SMC Community on ATA Connect.