Image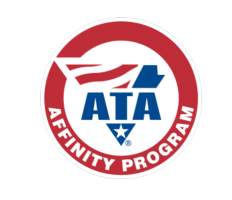 We know that when you are running a business, your time is at a premium. Let the ATA Affinity Program deliver solutions that will help you resolve critical business issues, save time and money, and help your business grow. ATA takes pride in assisting members by identifying bottom-line focused, vetted, "tried-and-true" resources. Plus, our programs provide our members with preferential pricing and access to best-in-class vendors.
We invite you to learn more about our Affinity Program Providers. Put your ATA membership to work — find out how you can benefit from these products and services.
If you are not a member and wish to take advantage of these member only resources, consider joining the ATA. Contact the membership operations team by email at ATAMembership@trucking.org or call 888.333.1759.
---